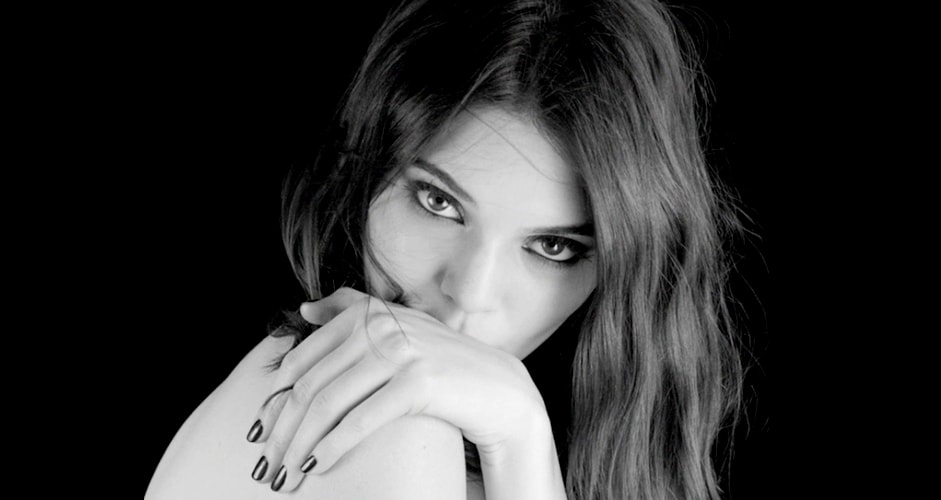 There are few timeless wardrobe pieces as revered as the little black dress. Long or short, draped or form-fitting, the exquisite simplicity of the LBD has played muse to designers for decades. The garment's versatility and the ability to dress it up or down have made it a hit with women of all shapes and sizes—and has inspired our latest product innovation, the Little Black Primer. A multitasking spin on mascara that is as adaptable and show-stopping as the sartorial staple that inspired its name, the LBP triple-times as a light-weight base for heavier pigments, a subtle tint on its own and a water-resistant topcoat for mascara. "It literally goes with everything," Estée Lauder spokesmodel Kendall Jenner says of the slimline tube and LBP's universally flattering dark hue, which happens to be one of her favorite colors (and features prominently in her closet). Below, Jenner shares her list of little black favorites with Estée Stories, and expertly models our new LBP above, layered with mascara.
Black leather jackets make an outfit.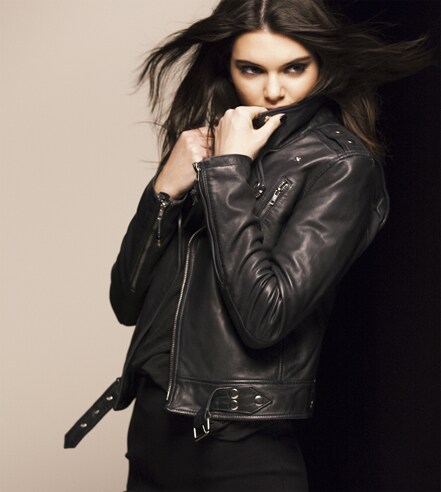 The little black dress:
"I rarely wear dresses but when I do,
I look for something that stands out."
The little black jacket:
"Black leather jackets make an outfit. I
just got a new one that's black with
embossed snake-print. It's sick."
The little black boots:
"I used to be into knee-high boots with heels, but now I'm more into ankle boots. My favorites are booties from Tabitha Simmons. I'm tall and I don't really need the height. Plus, I like being comfortable."
The little black pants:
"I have a pair of black jeans with motorcycle detailing on the knee that I love. I typically like a good high-rise, or a mid-rise jean. I also love black leather pants. I just discovered the line Cushnie et Ochs. Their black leather pants are amazing because they're cut
really long."
The little black eyeliner:
"I'm really bad at putting on my own eyeliner! But I like DW Stay-in-place eye pencil that you can put on and smudge. I sort of have O.C.D with my eye makeup so even if it's supposed to look messy I still try to make it look perfect!"
The little black bag:
"I have a big black bag that's really good for traveling because you can fit everything inside. But I wear my black Céline Mini Tote everyday. I have two others—a nude one, and a red one—but the black one is just so easy: you grab it, and go."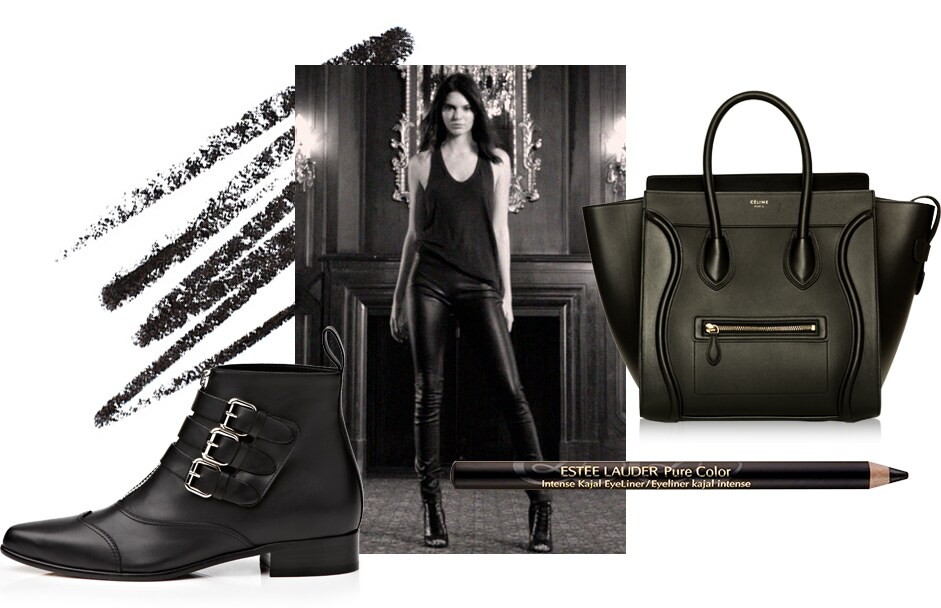 The little black sunglasses:
"My favorite sunglasses are a pair of black aviators, and then I have a pair of boxy, black shades that just go with everything."
The little black tech support:
"I'm the kind of person who doesn't like knowing my schedule because it can get really stressful, so I don't use planners or notebooks. But I always have my black phone in a black case with me. And my headphones—I got my black Beats Detox headphones before they came out.
Clockwise from bottom left: Tabitha Simmons Early Black Calf Bootie, courtesy of Tabitha Simmons; Kendall Jenner in her own Cushnie et Ochs leather pants; Céline Mini Luggage Tote, courtesy of Céline.