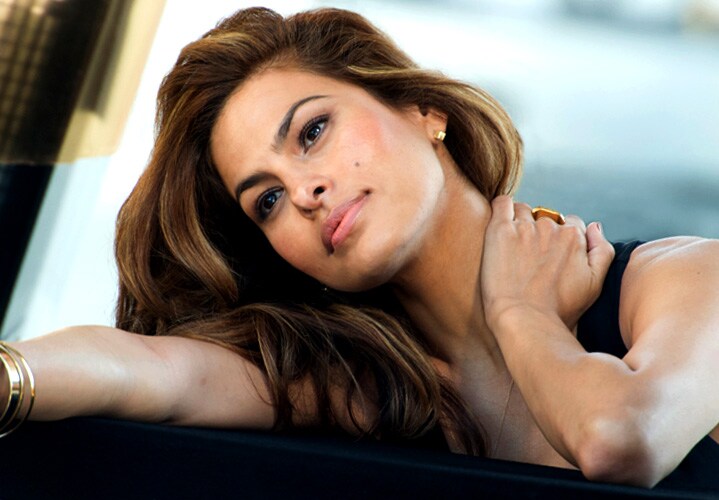 Since exploding onto the Hollywood scene almost 15 years ago, Eva Mendes has mastered the art of getting into character. From comedies to dramas, the actress has learned to seamlessly navigate her workplace environment, which frequently entails new sets, new castmates and new roles—not to mention new looks. "When I first started in this business, I loved that I would come out of these experiences transformed—sometimes physically, sometimes emotionally and sometimes both," says Mendes. "I think it has helped me grow in my own life as well."
You could say that the Cuban-American beauty's predisposition for transformation started at an early age. "I learned that it could be a valuable tool when I started going into my mother's purse and learning about beauty products by trial and error," she laughs, recalling her much younger self's experiments. "When I was in 7th grade, I went to an Estée Lauder counter and the woman asked if I would like a sample—she gave me Knowing. In my mind, it smelled exactly like a woman should smell," reveals the 41-year-old. "I've been wearing it ever since. My mother still gives it to me every year for Christmas!"
Mendes continues to rely on a spritz of fresh fragrance and New Dimension Serum to aid in her personal transformation efforts, which experienced a bit of a jolt earlier this year when she became a mother for the first time. "My beauty routine has definitely changed," Mendes admits. "But I'm still really diligent about it; it's just at different times of the day now" she laughs. "As tired as I am, though, I do find those few minutes." Here, the new face of our New Dimension skincare reveals the rhythm of these rituals and why changing your skin can be the most empowering transformation of all.
EL: What has been the most transformational moment of your life?
EM: The summer of 1990 was pretty transformative for me. I blossomed from a scrawny little girl to a young lady almost overnight. It was dramatic, beautiful and frightening!
EL: What is the most transformational part of your beauty routine?
EM: A hot bath. I usually add Epsom salts but for me, its really about going into a body of water, whether I'm at home or not. A warm bath is ideal, but even if it's a pool or a river or an ocean, to submerge myself into a body of water resets my molecules. It's important to submerge my head was well, even if I don't have time for a blow out!
When I first started in this business, I loved that I would come out of these experiences transformed.
EL: What has been the most physically transformational acting role you've ever had to prepare for?
EM: For my character in the film The Place Beyond the Pines, all the actors had to age about 15 years and I wanted to portray this women who had stopped taking care of herself so I decided to shave my eyebrows. I do not recommend it. People tried to talk me out of it! But luckily, they grew back. It was definitely extreme for me at the moment.
EL: How are you approaching the transformation that comes with ageing off-camera?
EM: I want to embrace the process, not try to fight it. There is a lot of anti-ageing dialogue out there. But there are positive things that happen to your face, too. I feel better in my own skin the older I get and I want to grow with myself and work with people who celebrate that. I have an amazing makeup artist named Genevieve Herr who understands that as well. Our goal when I get ready for an event is never to make me look like I did when I was 26.
EL: If you had to pick the most transformational product in your arsenal, what would it be?
EM: Where I really pay attention is skincare. I love the fact that the New Dimension skincare collection allows me to take control and transform how I want to see myself and how others see me, specifically with the Liquid Tape. I have been using it for a few months now and I find it really feels like it tightens the areas where I put it and I can feel it working! I also use the New Dimension Serum, which I apply liberally at night. I love the way it smells.
EL: Last question: what is the best transformational beauty tip you've ever given or received?
EM: Hydrate. For me, it really does start with what I put into my body and if you're not hydrating, you really see it in your skin. Sometimes, like most women and most new moms, hydrating is not on the list of priorities. I just forget to drink water! So now I start my mornings with warm water and lemon, before my coffee. That little tiny thing reminds me to drink water throughout the day.