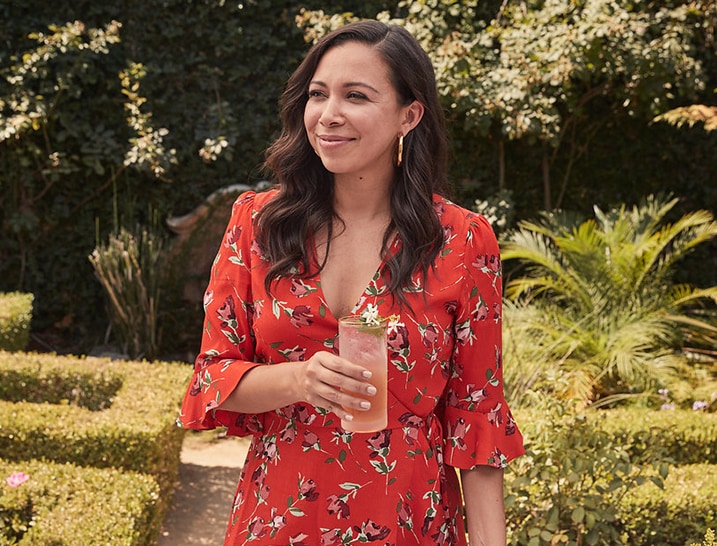 Fragrance is a visceral experience. One spritz can instantly transport you to a tropical island, a warm, cozy fireplace, or a lush flower garden (depending on the scent, of course). And a lush garden is where we found ourselves with Adrianna Adarme—the blogger behind recipe site A Cozy Kitchen—one sunny day at her Los Angeles home, mixing up a selection of mouthwatering drinks.
If you're a fan of the Estée Lauder brand, you've likely known and loved our fragrance Modern Muse for several years. It's a different experience for everyone who tries it. Some gravitate toward its sparkling jasmine side, while others fall for its sleek woods notes. And with Adarme, we decided to bring that duality to life in an experiential new way. Since taste and smell are inextricably linked, what if you could enjoy the essence of Modern Muse in a completely different form?
Which brings us back to that garden in Los Angeles. Adarme is something of a flavor expert, bringing her Peruvian-Colombian background to everything she makes. We thought she'd be the perfect person to infuse Modern Muse with a delicious new profile, and she determined a cocktail could be the perfect medium. Upon experiencing the fragrance for herself, she was so inspired, she wound up making three. Read on for the first recipe, and check back for the others, coming soon.
Modern Muse is such a fresh scent with the perfect hint of jasmine. I love jasmine tea and it's delicious when chilled and paired with a floral gin.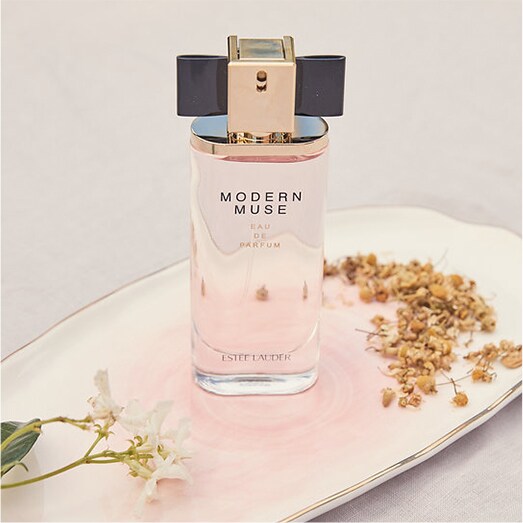 Jasmine Spritz
(makes 2 servings)
1 cup hot water
2 tablespoons loose jasmine tea
1 cup sugar
2-3 ounces of gin
Sparkling water, for topping
Fresh jasmine as garnish (optional)
Step 1:
Brew the jasmine tea in a measuring cup, pouring the hot water over the tea and allowing to steep for 2-3 minutes. Strain and discard tea leaves.
Step 2:
Mix in sugar, stirring until dissolved. Allow to cool to room temperature.
Step 3:
Place a few handfuls of ice into a cocktail shaker. Top with 4 tablespoons of the jasmine tea/sugar mixture and 2 ounces gin. Shake vigorously.
Step 4:
Divide into two classes filled with ice. Top with a generous splash of sparkling water. Garnish with fresh jasmine, if desired.