Frozen drinks are having a moment. While margaritas and daiquiris have always been mainstays, now the more "grown-up" drink selections are finding new life in frozen iterations. There's frosé (that's frozen rosé wine), the Dark & Slushie (a frozen version of a Dark & Stormy) and even Frozen Irish Coffee (coffee with whiskey, blended with ice). We'd be remiss not to include a frozen option in our series of cocktails inspired by Modern Muse, and this one, created by blogger Adrianna Adarme of A Cozy Kitchen, draws some additional flavor from her Latina heritage.
Because Modern Muse is a blend of two distinctively different accords—one sparkling and floral, the other dark and sensual—this Frozen Guava Rum Punch serves up a delicious combo of two similarly contrasting flavors. "Guavas are almost like a cross between a strawberry and a pear," Adrianna explains. "This pairs really well with white or dark rum, lots of lime and tons of crushed ice.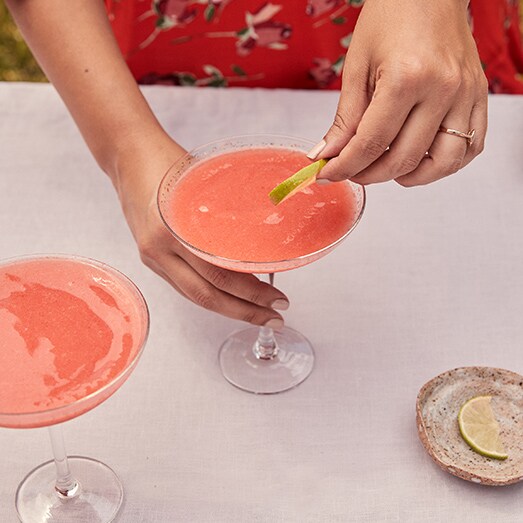 Frozen Guava Rum Punch
3 ounces guava paste ("You can easily find this at a Latin market," Adrianna advises. "Or you could use frozen guava, and just add some simple syrup to taste.")
4 tablespoons warm water
1 cup of ice
Juice from 1 lime, plus 1/2 lime, sliced, as garnish
2 ounces white rum

Step 1:
Combine guava paste and warm water in a blender. Pulse until smooth; about 1 minute.
Step 2:
Add the ice, lime juice and rum to the mixture in blender. Pulse until ice is crushed and slushy is smooth—about 2 minutes—scraping down the sides as needed.
Step 3:
Divide between glasses and garnish with lime slices.