The story of Coqui Coqui, Francesca Bonato and Nicolas Malleville's wildly successful hotel and perfumery in the buzz-y beach destination of Tulum, Mexico, starts with love at first sight. "I started walking on the beach and I saw a tent with a sign that read 'Massages,'" the Italian-born Bonato recalls of her first visit to the Mayan Riviera during the holiday season almost ten years ago. "A woman inside offered me a tea before my treatment and the guy who served me the tea was Nicolas. It was immediate," she says of the undeniable chemistry she had with Malleville, an Argentine model who moved to Tulum from New York after 9/11. When Bonato ultimately headed back to Italy, the distance proved too much for the new couple and in 2007, she moved to Mexico.
Putting on my ANR is an obligation!
Their internationally acclaimed business evolved as naturally as their relationship. "We followed our dreams," Bonato explains, detailing the early days when they turned Malleville's original plot of beachside land into a small hotel where she baked homemade breads and made marmalade by candle light while he kept up the massage business. "Coqui Coqui comes from coquiance de coco, which means coconut cuddles because when we first started, we only had local coconut oil for the massages," Bonato reveals. Their steady stream of guests didn't seem to mind. "We started getting press, and more and more people came to stay with us because they shared our sense of beauty and simplicity," she continues.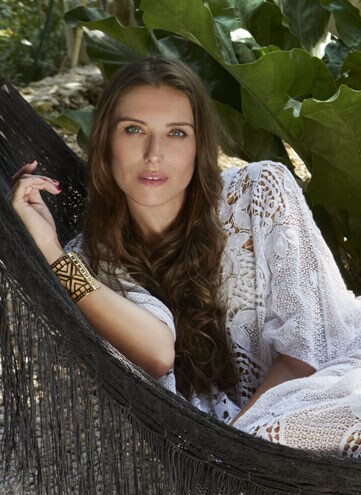 Eight years later, the couple has a five-and-a-half-year-old son named Leon, another son born this year named André and four properties on the Yucatan Peninsula. "Living here has made me realize that it's nice to adapt to your surroundings. You learn what is important in life, and what is superficial," she says of her frequent trips to local markets, the long walks on the beach, and the purifying spirituality of swimming in the sea. But certain luxuries are worth importing, Bonato admits. "I have to buy three or four of my Estée Lauder cremes whenever I go to the airport!" Here, just in time for the holiday travel season, Bonato shares her skincare tips for tropical locales, and why you can never be too careful when it comes to sun protection.
On Daytime Moisture:
"The weather in Tulum is fantastic but because the humidity makes your skin naturally moisturized, you need to find the right products that don't make you look greasy. When I'm in Mexico, I use the purple Estée Lauder serum (Perfectionist [CP+R]). It's perfect for extra absorption and it has a mattifying effect on my skin so it never, ever looks oily."
On Makeup:
"I constantly live in summertime so wearing a lot of makeup just isn't practical. But I might do a kajal on my eyes—and black waterproof mascara. I wear mascara every day."
I have to buy Estée Lauder whenever I go to the airport!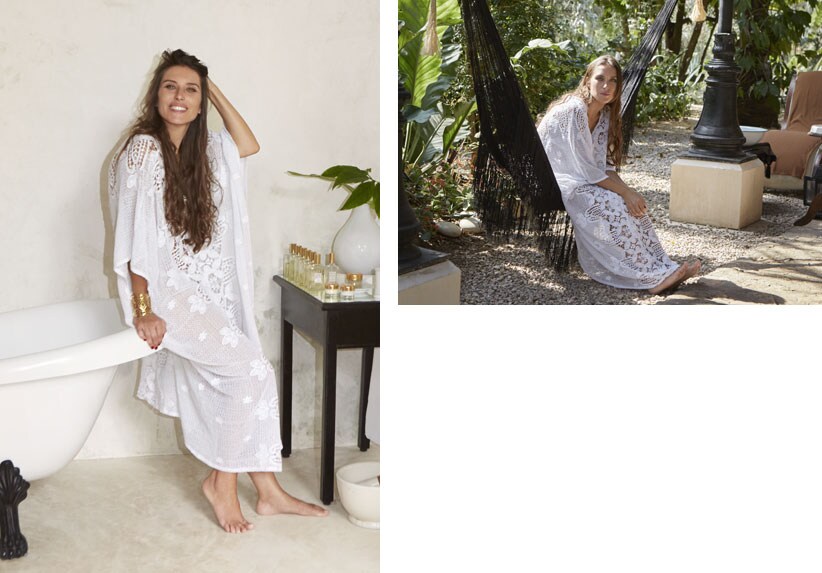 On Eveningwear:
"The first thing I do when I get home after a long day is to take my eye makeup off. Then I take a bath or shower, and once a week I'll do a scrub. If I shower with hot water, I'll always put very cold water on my face. Right before I go to bed, I put on Estée Lauder's Advanced Night Repair. Putting on my ANR is an obligation! It has the most beautiful texture ever, and I'm a tactile person so that's really important."
On Suncare:
"I never sit in the sun. I know that sounds weird because I live in Tulum, but you can actually feel the sun here when you don't use the correct sun protection. When I am at the beach, I always wear the Montaecristo hats that we sell at the store. We hand-make them in a small little town close to Merida with the same palm tree leaf fiber that they use in Ecuador to make Panama hats!"
On Fragrance:
"The Coqui Coqui perfumery was Nicolas' idea. His grandparents had a pharmacy and herboristerie and he studied botanicals. At first, having a Coqui Coqui fragrance was kind of a necessity: we had the spa and we needed oils to do the treatments, and to perfume the hotel linens and the shampoo that we gave the guests. Now, we have 11 fragrances and they've all been developed into different products—bath oils, eaux de parfum, scrubs. We hand-make them, too. My favorite is called Fresh Roses."