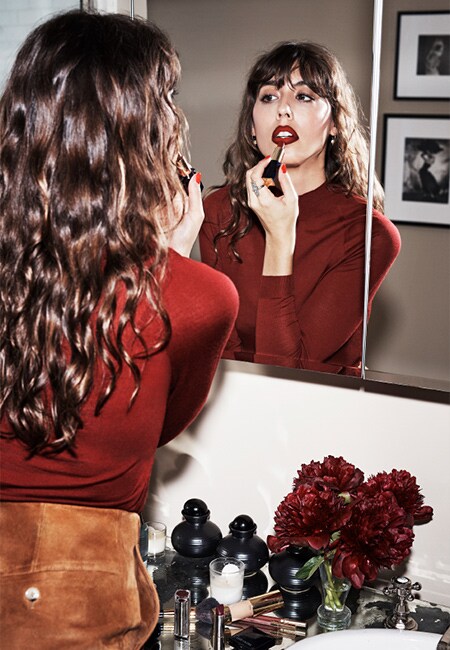 After years spent on the sets of photo shoots and making makeup magic in her atelier, Violette knows a thing or two about how to craft the ultimate beauty routine. Now that she's part of our team, we've basically studied her every move and grilled her on her techniques so we can bring you real-life tips and tricks straight from the source.
We also decided to have a little fun with her so you can get to know the woman behind the makeup brush. Read on for more!
You've often talked about the importance of skincare, and how you see it as your "foundation." How many steps are in your routine?
5. At night I use a milky cleanser on dry skin—I don't splash my face with water first—and massage it in for two minutes. Then I make sure to give it a really good rinse. After that I apply an exfoliating toner, a treatment ampoule, serum, and then moisturiser. I do the same in the morning, minus the ampoules.
You travel a lot, splitting your time between New York, Paris and Los Angeles. How does your beauty look change when you're in each city?
In LA, the weather is warmer, so I tend to keep my skin as "naked" as possible, because I don't like to feel the heat on my skin. In Paris, I tend to go for smoky eyes or red lips, because they're such a part of the culture, and I'm so used to that there. And in New York I'll go a little more "out there," because it's such a creative,
diverse city.
So many women are afraid to go completely bare with their skin, but they still want that "naked" look. How do you cheat that with foundation?
Only apply it where you really need it. I always say never to put foundation right on the front of your nose. If the skin is too matte, it doesn't look real—you need that little bit of shine. So only apply the foundation around the sides of your nose, and any place else you need to make the skin more even.
I will leave my house in the morning with glitter on my eyes. I only base my looks on my mood. No rules!
What is your favourite look for daytime?
I don't have any looks based on day or night. I will leave my house in the morning with glitter on my eyes. I only base my looks on my mood. No rules!
What is the one makeup product a woman should never be afraid of?
I'm a huge fan of using metallic eyeshadows. What I do is add a little bit of glitter on top of my eyeshadow, but it's not meant to look super glittery—it just puts a little shine on the eye. I want to push this and get women to dare a little bit more. Once you see it, boom! It gives such impact to the eyes, but it's still you.
You've also talked a lot about being "anti-trend." Are there any current beauty trends you wish would go away?
Contouring. It's one thing for a photo shoot or in a video, but then in the street or on the subway, it doesn't work. I much prefer seeing skin. When you put that much product on your skin, you show that it's artificial. With all of the lighting and filters on social media, you can make the skin look smooth, but [with these products], it doesn't look smooth in real life. When contouring is gone, I'm not going to miss it
at all!
Now for the fun part...
What is the last played song on your iPhone?
Chopin, Waltz in C-sharp minor. I love classical music!
If you were a food, what would you be?
A macaron. It's a cliché, but it's the symbol of my country.
Where is your favourite place in the world?
My house! When you travel a lot and live on the road, there is something so precious about the simple life at home. It connects me with reality, it grounds me. It's a quiet moment of very simple life that I cherish a lot.
What colour is your aura?
I have no idea, but I can tell you my mood colour. There is always a constant, which is blue. I am so inspired by the work of [painter] Yves Klein, who created a very specific blue, like an indigo. His blue is always somewhere around me.
If you had a superpower, what would it be?
To blink and be wherever I want to be. I have no patience, and no time to get from one place to the next. That would be my dream power!
You're getting ready to move to a new home. What is the first thing you want someone to know about you when they enter your house?
I want people to feel welcome and in a safe place. It's important to me to feel like there is air and freedom, but also warmth and security. That's what I also do in my relationships with friends and family. I give a lot of space to people, but at the same time, they know I'm here and it's always warm. We have no filter—we hug and kiss when we want to, and my house will be the same.