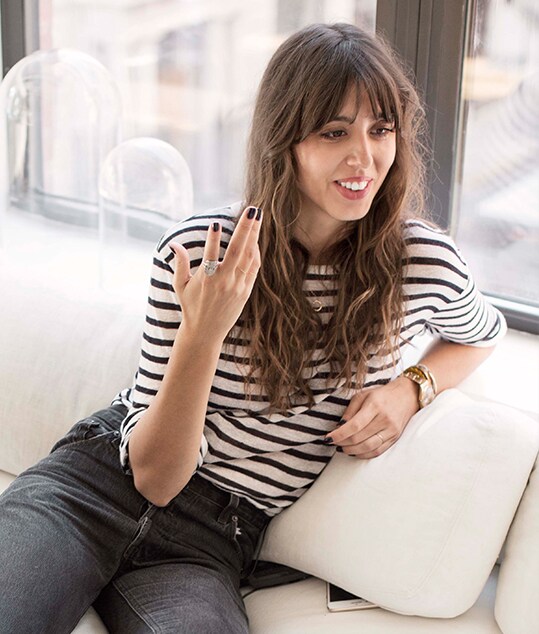 Ever wish you could be a fly on the wall as two of the chicest women reveal their style and beauty secrets? We're bringing you just that. Our Global Beauty Director, Violette, sat down with photographer, illustrator, author and all-around style star Garance Doré for a chat about life, love and that French-Girl je ne sais quoi for Garance's podcast, Pardon My French. Read on for some of Violette's highlights from their conversation.
On having pride in her work…
I was always very hard on myself. I think it's amazing because now I have no ego in my work. I have pride and I have a good opinion of myself and am confident, but no ego. I'm the first one on set to say this makeup is terrible and let me get rid of it and do something else.
On what shocked her about the makeup industry…
One thing that really shocked me was you couldn't be pretty or stylish because you're the makeup artist. You're not the stylist or the model and I never understood that. I'd hear indirect comments. I wasn't that dressed up. I had jeans, a t-shirt, lipstick on, a hat and my suitcase was very nice and my nails were always done. I wasn't fancy, I just took care of myself.
On the importance of having people who support you…
You need to have someone who believes in you. It's hard sometimes to have a good vision of yourself all the time, so if you have someone and you can see this through their eyes, it's very helpful.
On how she got onto Instagram…
It was very late in my career. I did editorial work for years and the one who put me on Instagram was [founder of Into the Gloss] Emily Weiss. She grabbed my phone and said, "Ok, you need to be on this new thing, it's a new app." And I thought what? Instagram? Does it calculate your weight or something? But Emily is the one who found my name on Instagram, @violette_fr. And then it became my thing and it's funny that she really put this out there for me!
In France we learn how to take care of what we have, what Mother Nature gave us.
On her start on YouTube…
YouTube came around from a weird reaction I had about a year ago. I woke up one morning, and I always scroll down Instagram when I wake up, after my meditations, and I was seeing all these tutorials, and I thought,"I don't relate to any of them." I am sure there are other women like me who don't relate to all the contouring and all the makeup. It's so pretty seeing a woman do her makeup, maybe there is something poetic about it. So Fabian [Violette's director], was in New York with his friend, and I asked them to film me doing my makeup in the car. They said they couldn't because the lighting would be terrible and I said I don't care because it's real life.
On her priorities…
My priority is to be happy. For me, being happy is to be in peace and enjoying what I do, being where I want to be and having pleasure. If I have no pleasure in what I do, I'll do something else.
On French beauty…
I try to share this a lot. In France we learn how to take care of what we have, what Mother Nature gave us. We don't do blow dryers or crazy hair, but we'll do an incredible conditioner and hair masks. We won't do tons of treatments and filler, but we will do a wonderful facial every week and eat healthy.
On working with Estée Lauder…
The fact that this brand was created by a woman, in a time when it was impossible to create a business, and it is still one of the most powerful…. After the election, I felt, like every woman here, the need to be supporting other women. So, for me to represent one of the biggest American brands, created by a woman, was so symbolic and so important, and I was like, yes, let's do this! I'm very proud about this!
Want more? Download Garance's podcast here.