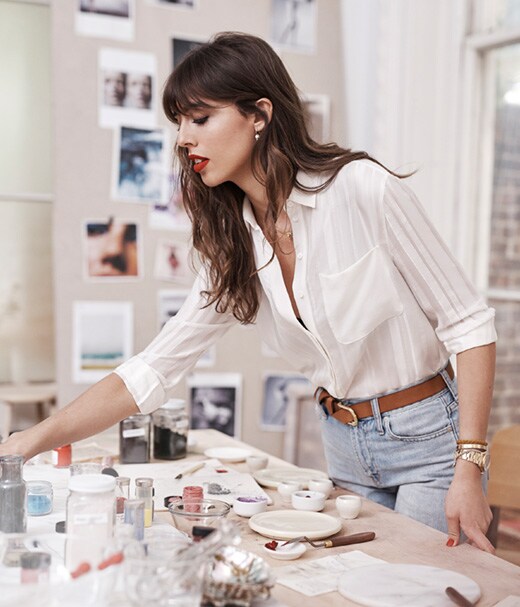 It's not every day that someone with true artistry chops comes along to make a name for herself on the internet. And yet that's where we found Violette, a Parisian-born makeup artist who honed her skills on the sets of fashion editorials with major photographers like Camilla Akrans and Patrick Demarchelier. She doesn't subscribe to trends or rules, believing instead, as she puts it, that we need to "forget the beauty codes and going after the 'perfect beauty.' I am anti-trend and pro-freedom of expression."
This is just one of many reasons why we're so thrilled to have Violette as part of the Estée Lauder family, serving as our Global Beauty Director and helping to create products and looks that real women will want to use and wear. Our founder, Estée Lauder herself always used to say, "Beauty is an attitude," and that's what resonates most with Violette, making her feel that she and Estée are kindred spirits.
We had the pleasure of chatting with Violette as she steps into her new role, and could have talked beauty with her all day. Fortunately, there is much more to come on this front over the next year, so read on for our conversation and stay tuned.
What is your first beauty memory?
Really my country, in France. I remember seeing these women in t-shirts and messy hair, and yet they had incredible, perfect red lipstick on, and heels. They could be at the grocery store, or at school picking up their kids, and they were wearing this. In my mind, I started to associate heels with lipstick. I get my inspiration for lips from shoes. I love that no matter where these women are, they're doing it for themselves.
What does beauty mean to you?
Beauty is a way of expressing yourself, a way to celebrate femininity. It's also a ceremony for me. Because the time I'm going to take for myself in the bathroom, doing my skincare or makeup (or even in the car when I do my makeup), it's like my minute for myself. Just the gesture of applying the products, it's something
really caring.
What inspires you most about Estée Lauder, the brand?
It's the history. There's something very historic about Estée Lauder. I feel like it's always been somewhere in an American life. It's very iconic, and there is an emotional connection to the brand. It's not just superficial, people are linked to this brand through their memories. It's a brand that respects women, because it cares about enhancing their beauty.
If there is one look I would like to see more of, it's seeing more women daring to celebrate their femininity and having fun with their makeup.
What inspires you most about Estée Lauder, the woman?
I could say that I met Estée a few weeks ago, and I'm still meeting her. I'm really shocked by her modernity in her time. She was such a visionary. We have so much in common. Her philosophy was not about selling her products, but about selling the look. This idea of, 'What do you need, vs. what do I think you need.' She created this brand as a woman in an era when being a businesswoman was absolutely not a thing. And she created it herself and now it's part of history.
If you could meet Estée today, what would you tell her?
I would say thank you for paving the way for us women to be inspired to dare to create something we believe in; to not be afraid of creating a strong business in a man's world. And I want to thank her for impacting our history, because now it's so relevant. What she created keeps inspiring us, and that's a huge a gift. And if she could make it then, I can make it now. I would tell her that she's still an inspiration for women today.
Who inspires you?
Women. All women. I don't have one icon. I walk in the street—New York is an incredible source of inspiration because there is so much diversity—and the women here dare to try. I love to look at them and imagine a little story of how they decided to wear a particular look. It's like every woman is showing you a little part of herself.
What is the one thing you wish every woman understood about makeup?
The root of my philosophy is working on accepting and celebrating who we are, instead of 'improving.' What does that mean, improving? There's this pressure to be perfect. But everyone should do whatever they want, and I'm pro-freedom of expression. Think of forgetting the 'beauty codes,' like what is the 'perfect' beauty. Instead, let's look at what you like on your face, what is your favorite feature? Use makeup to celebrate who you are instead of changing what you look like.
Are there any beauty looks or trends you wish you saw more of?
I'm kind of anti-trend. Since starting my YouTube channel, I just want to forget about them. Let's consider any kind of look and forget whether it's trendy or not. What do you want to wear? What is cool for you? If there is one look I would like to see more of, it's seeing more women daring to celebrate their femininity and having fun with their makeup. I just want to see women owning their look.
What is the "little black dress" of makeup?
Red lipstick. In my bag, I always have a concealer and red lipstick. Even if I'm not wearing red lipstick that day, I have it just in case.