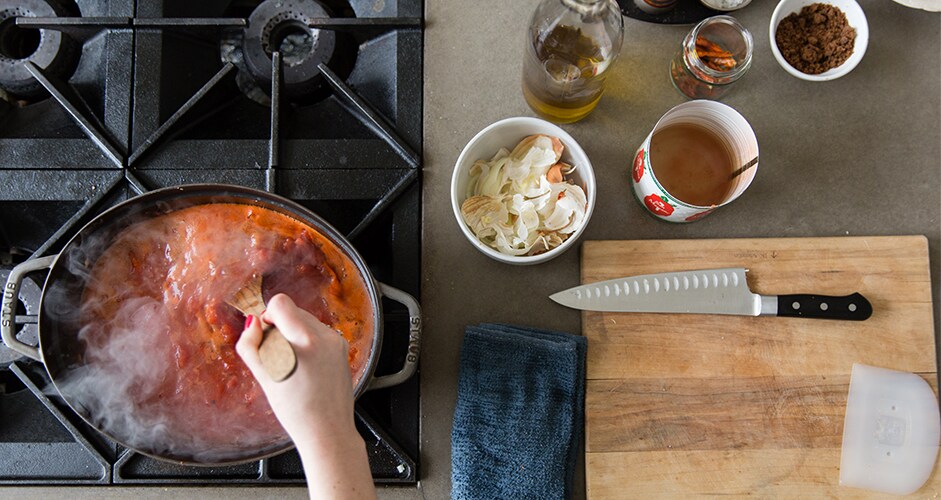 According to Aerin Lauder, Estée Lauder's style and image director and founder and creative director of AERIN, her grandmother had a soft spot for sugar. "Estée loved anything sweet. She would even put sugar into her tomato sauce," Aerin recalls with a hint of nostalgia. Bon Appétit magazine's senior food editor Alison Roman gets similarly sentimental when thinking about her own red sauce memories. "Every Wednesday night when I was little, I would go to my best friend's house and her mom would make this pasta sauce from canned tomatoes and basil from her backyard. It tasted like home," says Roman. "I tried to recreate it for myself but I never did, although I like to think that the version I make is a variation on hers." Here, Roman puts another spin on her signature red sauce recipe by taking a page out of Estée's book and adding a touch of muscovado sugar for a subtle sweetness. "It's the perfect last ingredient," Aerin confirms.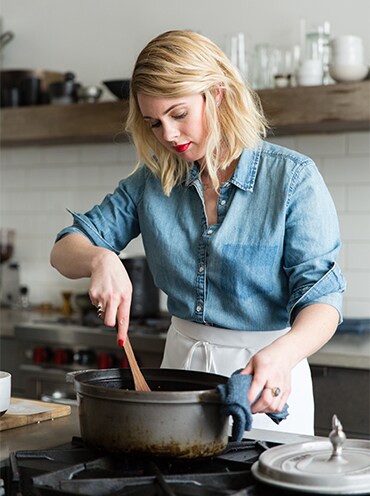 Estée's Tomato Sauce
with Muscovado Sugar
Ingredients:
¼ cup olive oil
1 small onion, finely chopped
2 cloves garlic, finely chopped
Kosher salt and freshly ground pepper
2 Tbsp. tomato paste
2-4 chile de arbol
(or ½ tsp. crushed red pepper flakes)
¼ cup red wine
2 28oz. cans of whole peeled tomatoes
6 sprigs thyme
2 Tbsp. muscovado sugar (dark brown sugar would work as a substitute)
1 Tbsp. fish sauce (optional, but provides an umami boost of flavor)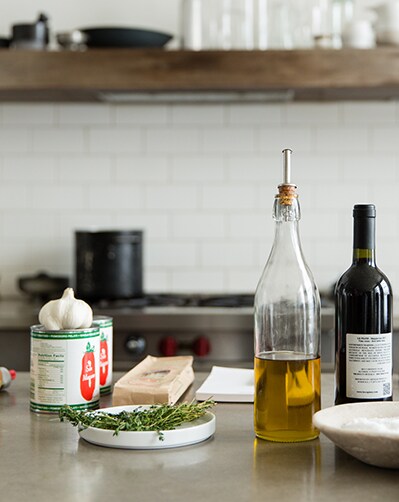 Directions:
Heat the olive oil in a large dutch oven or other heavy-bottomed pot over medium heat. Add onion and garlic and season with salt and pepper. Cook, stirring pretty often until the onions are translucent and totally softened, about 8–10 minutes.
Add tomato paste and stir to coat all the onions and garlic. Cook, stirring occasionally (and using the spatula to scrape up any bits that start to stick) until the tomato paste turns a deep brick red color, about 3 minutes. Add chile de arbol and thyme and stir to coat.
Add red wine and scrape up any bits on the bottom of the pan. Simmer until reduced by about half (this will burn off most of the alcohol and concentrate flavors), about 2 minutes.
Add your canned tomatoes (you can crush them in a bowl beforehand, but I like to just crush them right into the pot). Fill each can about halfway with water, swirling to get any tomato-y bits out of there and add to your pot. Reduce heat to medium–low and season with salt and pepper.
Simmer until sauce is thickened and the flavors have all melded together, about 2 hours. Remove from heat and add sugar and fish sauce. Season again with salt and pepper. Serve over buccatini, spaghetti, or whatever tickles your fancy.
Yield: About 2 quarts of sauce (8 cups). If you're not planning on having a pasta party, this sauce freezes excellently.