A woman's own beauty routine can feel as personal as her lingerie. It's that moment of time we dedicate to ourselves before facing the world, and it's our little secret as to what we're wearing (unless, of course, you're broadcasting it in a YouTube video). When we met lingerie designer TyLynn Nguyen (her luxurious line is based in Los Angeles, California), we were completely taken with her philosophy on beauty and femininity. She creates chic, classic pieces that not only make a woman feel sensual and special, but they're versatile enough to be worn both at home and out in the world. We instantly saw the connection to beauty, and of course had to know what Nguyen wears herself. Read on for our conversation and a peek into her beauty routine.
You studied textile marketing and design—what drew you to lingerie specifically?
I was drawn to lingerie from a very early age. My mother would get dressed for work—she was a drill sergeant in the U.S. Army—and she would wear the finest Eres pieces. It made me have an eye for detail from the inside out. Once I went to college, I took classes that screamed out [how to be] a lingerie designer. Corsetry, notions [also known as sewing classes, for the uninitiated], historic body shaping classes, science classes about materials, etc. I just followed that small voice from within.
Where do you get your inspiration for your designs?
I get inspiration from architecture, along with my ideas about what a woman who loves herself completely would look like. Everything I make I want to wear.
Describe the TyLynn Nguyen woman.
She is the embodiment of self-love—what it means to understand yourself and have your cup overflow unto others. I really believe we are not here just to reap the benefits of life for ourselves, but to share goodness with others. She is elegant, she is intelligent, and most of all she is beautiful. Beautiful, because she radiates a knowledge of human compassion and self-awareness.
I will wear a red lip anywhere! I think it is so chic and can dress up even the most simple outfits.
Do you draw a distinction between day and night when it comes to fashion? Will you always change from what you're wearing during the day for a night out?
I do! I love referring to queens' and duchesses' wardrobes as the basis for outfits. Although I enjoy comfort, I truly believe dressing is an individual art form, specific to every person.
How does the above philosophy apply to beauty? What do you do (if anything) to amp up your look for night?
Actually, I don't change my makeup that much. Daytime is usually a very natural face and sometimes a red lip. And at night, the same exact thing!
As evidenced by your Instagram, you seem to love a red lip! Is it something you typically reserve for a night out, or will you wear it anywhere?
I will wear a red lip anywhere! I think it is so chic and can dress up even the most simple outfits.
What is your first beauty memory?
Being told to stay away from my mom's Creme de La Mer. [Laughs]
What are your everyday beauty essentials?
Face oil, a bit of foundation under my eyes, blush, mascara and lip conditioner.
What do you always make sure to have in your clutch for a night out?
Red lipstick, roll-on fragrance and my iPhone.
Your Calla slip dress looks like it was made to go from the bedroom through a day of running around, and then out again at night. Do you have an equivalent beauty product that is as multi-purpose?
Definitely my red lipstick!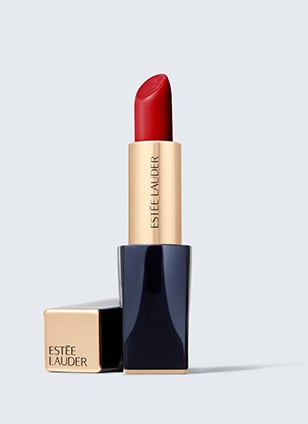 Statement-making, lip-shaping color. Creme finish.
1 shades