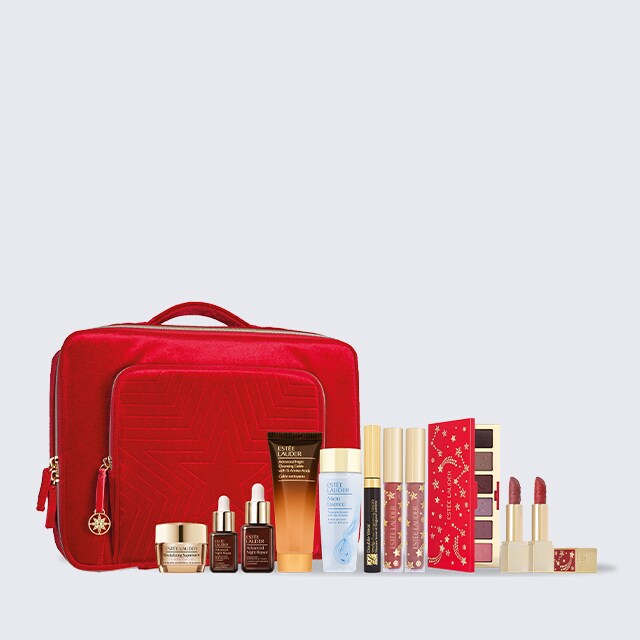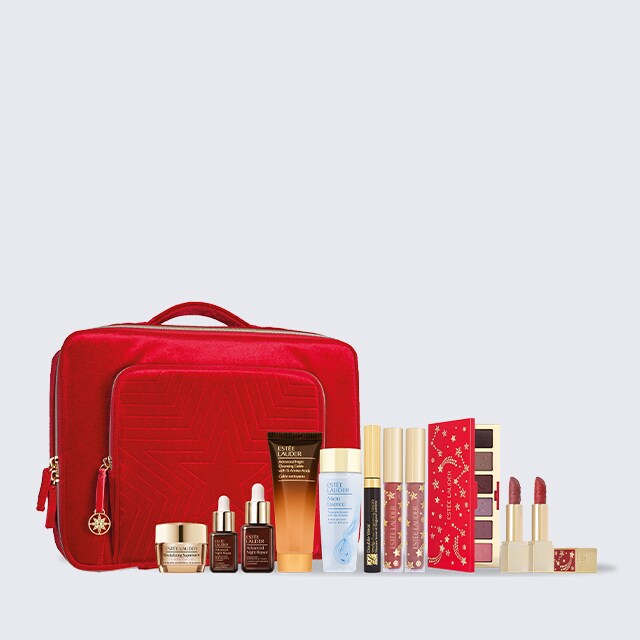 Holiday Blockbuster Set
Add to Bag
Product Details
Quantities are limited—shop our Blockbuster now and get 17 beauty essentials! This is the gift you've been waiting for, in one stellar collection. All in a deluxe train case made with 100% recycled fabric. See complete shade and size details below.
GET SKINCARE FAVORITES:
• 1x New Advanced Night Cleansing Gelée with 15 Amino Acids, deluxe travel size (1.7 oz./50ml). Wash away makeup and impurities from skin's surface, without stripping or disturbing the moisture barrier. Helps skin feel soft, comfortable, balanced.

• 1x Micro Essence Treatment Lotion with Bio-Ferment, deluxe travel size (1.7 oz./50ml). Intensely hydrates to minimize the appearance of dry pores and reduce the look of fine, dry lines. Skin is soothed and its inner glow is revealed.
• 2x Advanced Night Repair Synchronized Multi-Recovery Complexes, deluxe travel size each (.5 oz./15ml and .24 oz./7ml). Our #1 Serum helps skin look smoother and less lined, younger, more radiant and even toned.
• 1x Revitalizing Supreme+ Youth Power Soft Creme, deluxe travel size (.5 oz./15ml). Significantly improves skin's firmness, density and elasticity for a firmer feel and more lifted look.

PLUS, MAKEUP FAVORITES AND MORE:
• 1x Limited Edition EyeShadow Palette in CELESTIAL GLAM, deluxe travel size (.24 oz./7g) Includes 6 shades for eyes (from Left to Right): Pink Dusk (Matte), Aubergine Aura (Matte), Twinkling Lilac (Frost), Amethyst Cosmos (Matte), Full Moon (Matte) and Smoky Embers (Matte). Captivating eyes day or night. This palette is perfect for creating subtle or smoky looks.
•
2x Limited Edition Lipsticks
, full-size (.12 oz./3.5g each) in Constellation Rose (A midtone rose with a neutral undertone and creme finish.) and Shooting Star (A burnt apricot with a warm undertone and matte finish.). Super creamy, sensually soft and smooth.
•
2x Limited Edition Lip Glosses
, deluxe travel size (.16 oz./2.7ml each) in Ruby Quartz (A rich red with a creme shine finish.) and Crystal Nude (A warm pink with a creme shine finish.). Brilliant, glossy gleam. Lightweight, hydrating texture.
•
1x Double Wear
Zero-Smudge Lengthening Mascara, full-size (.22 oz./6ml). Resists high temperatures, humidity and perspiration.
•
Train Case
(Enjoy this keepsake bag, designed with the environment in mind with 100% recycled content fabric.)
CREATING THE FUTURE OF BEAUTY TOGETHER
Please recycle this carton, fiber-based platform and tissue paper.

*All references to price and value based on suggested retail price.